New Zealand Certificate in Foundation Skills (Level 1)
Locations and dates

Nelson:

21 February 2022

25 July 2022

Length

19 weeks full-time: 17 teaching weeks plus 2 holiday weeks

Total credits

60

Fees

Zero fees

A Compulsory Student Services Levy applies.
($2 per academic credit)
Fees listed are for each year of the programme, indicative only and may vary with course selection. View course details for individual fees.

National qualification code

NZ2861
Take this programme to change your future for the better.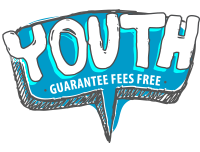 This programme is eligible for fees-free funding through either the Youth Guarantee, First Year Fees Free, or an internal NMIT scholarship. Our staff will automatically review each application to ensure the appropriate fees-free funding is applied, student levy will be included.
The NZ Certificate in Foundation Skills Level 1 provides a supported pathway into further study and employment. It aims to provide young people with the skills and confidence needed to go on into further study at NMIT at Level 3+ or into entry-level employment.
The programme offers:
Pathways into further education and employment
Hands-on practical, fun and engaging activities
Supportive tutors to help students achieve learning plans
In-class learning and real-life experience
Project-based work
Connection to further study opportunities at NMIT
One on one class support
A strong and inclusive youth focus
On completion of the Level 1 programme, students may choose to go on and complete the Level 2 NZ Certificate in Foundation Skills.
Take this programme to change your future for the better!
Lily says, "I recommend it to anyone who is thinking of leaving school or someone who is a bit stuck with not finding a job. Because I was in that position and did not know what to do and the course really helped me a lot and helped me get a job."
You'll get to do cool stuff. You will build your confidence to be able to go on and get ahead in life and future work.
You'll be taught by awesome tutors who want to make sure you succeed and have a good time while you do it.
These courses can pathway into many other NMIT programmes such as Carpentry, Automotive, Adventure Tourism, Hairdressing, Beauty Therapy, Fitness and heaps more.
This programme finishes in the middle of the year so you can go on to study another programme or Level 2 NZ Certificate in Foundation Skills which gives you a chance to build on the skills you have learnt already and complete work independently.
All your work is project-based. You might present your work as rap or art, in discussion or as written words - whatever works best for you.
Learners on this programme have very high levels of success. This could be you!
This programme is not equivalent to NCEA Level 1.
Start your application today. You'll be glad you did.