Sustainable Aquaculture (Level 4)
Study for free

Locations and dates

Nelson:

Online:

21 February 2022

2 May 2022

18 July 2022

10 October 2022

Study options

Full-time and part-time

Length

23 weeks full-time including four weeks of study breaks

Total credits

70

Fees

2022: $3,859 plus $140 Student Services Levy per strand - Fish or Shellfish. Each strand is 70 credits.

A Compulsory Student Services Levy applies.
($2 per academic credit)
Fees listed are for each year of the programme, indicative only and may vary with course selection. View course details for individual fees.

National qualification code

NZ3134
Join the fastest growing primary industry in the world and turn your love of the ocean and all things in it into an environmentally aware, practical, hands on career.
During this course you will become familiar with detailed aspects of growing fish and shellfish. You will learn about growing healthy animals in a ethical and environmentally conscientious way. You will cover important bio security requirements and develop plans to implement these.
Your hatchery and production knowledge will be increased through the middle of the year before you finish the last half of the year getting outdoors and stuck into it.
You will complete boating and maritime qualifications, as well as getting into things like farm maintenance, knots, sea survival and navigation. You will then round up the course with a 2 week work placement which will be invaluable to pathway you straight into industry.
Do you want a diverse life?
If you want a diverse life and are driven towards a career in conservation, biology, engineering or chemistry, and have a knack for problem solving, then Aquaculture could be for you. Come learn with us.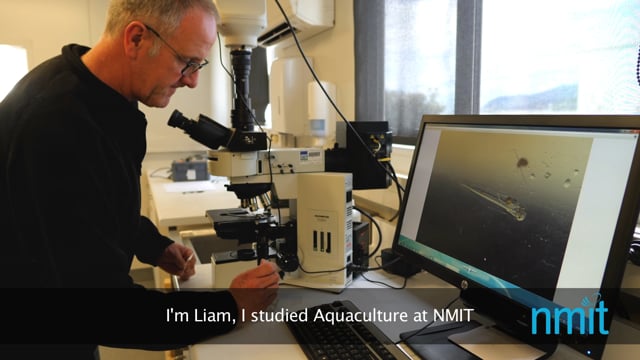 A new career in aquaculture
Liam changed is career and chose Aquaculture. Read his story below.
Start your application today. You'll be glad you did.